I know I've said it before, but I hate to waste. When I say I hate to waste, I mean I hate to waste anything. Now, that being said, I hope you don't think I'm a hoarder. I am not. I look for ways to use things before I throw them away, but my mess is a collective one. It's all organized and I actually do throw some things away. But ONLY  if I can not think of a way to upcycle it.
In this post I'll be sharing some of the things I re-use instead of tossing them for garbage.  Hopefully this will inspire you to look at your trash before it becomes trash.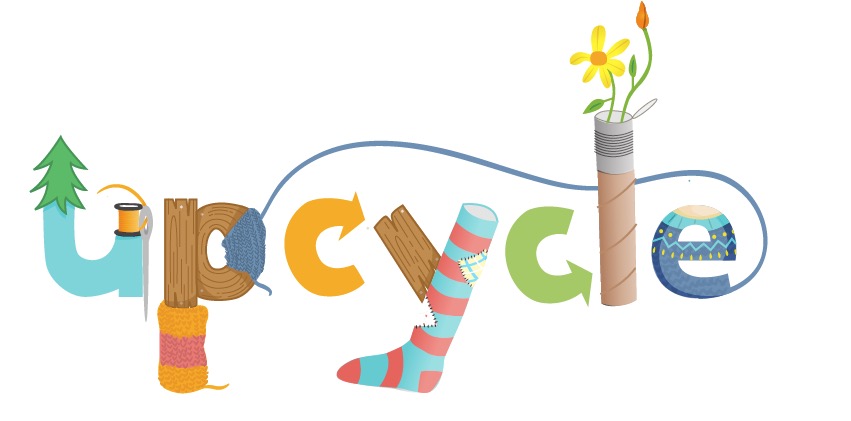 Material  and Ribbon Scraps–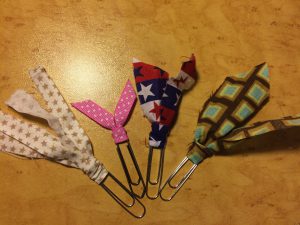 I use material for lots of things, but there's always scraps. Recently, I cut pieces large enough to fit the bulletin boards at church. These make great backgrounds and can be used over and over without the staple holes showing like they do on regular paper.
I also use material scraps or small pieces of ribbon for paper clip page markers. These are adorable. They make wonderful markers for my bible or any other book I am reading. They also make great gifts. And the patterns are endless.
Straws- We don't eat out often, but when we do, it's usually fast food. Fast food restaurants have those larger and sturdier straws than those you buy in a pack at the grocery store. I have saved a few of those, not a lot, but a few. I use them to keep my necklaces from tangling.
Just run one end of the chain through the straw and then fasten it back to the other end. If the straw is too long for your necklace, just trim it to fil. They lay nicely in my jewelry box drawer. These straws are also great for the homemade milkshakes, because they are so large.   Keep a few on hand.
Wood Pieces-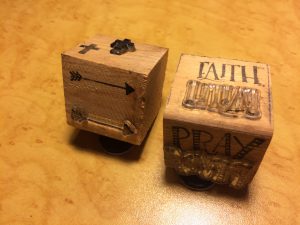 Last year I cut several wooden blocks to use for ornaments. I had several of these left over so I wanted to put them to good use. I had purchased a set of rubber stamps that are supposed to be used with an acrylic block. I didn't have a block but why not use what I have on hand? I glued the stamps to these wooden blocks. Before I glued them, I stamped above the area to be glued so I could see what the stamp looked like. I was able to get four stamps per block, leaving two blank sides to hold the block. I love them!
Odd Socks- Who doesn't have odd socks? Either the washing machine eats them or  we holes in one, leaving an odd one. I use the odd ones for dusting rags. I can slip my hand right in and dust away. They can be washed with the regular laundry or thrown out when they become too worn.
Clothes-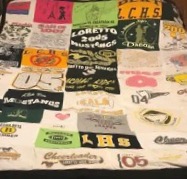 My daughter accumulated dozens of t-shirts throughout her high school days. Each one had a special meaning and she didn't want to part with them, but they were worn out, stained and ready for the trash. We took those shirts, cut out the logos  or designs or whatever was on them and made a memory quilt for her. I'm not a quilter by any means, but she absolutely loves her quilt.
I am currently working on a similar project using my granddaughter's first year onesies. There's one for each holiday and then a few special occasion ones that her mom had made for her. I can't wait to see the outcome.
Crayons-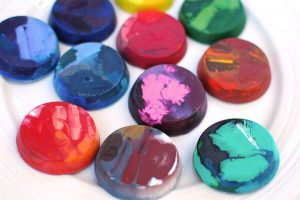 I only buy crayons when they are on sale. Before school starts you can get them for less than a quarter a box if you watch the sales. I have a plastic pencil box that I use to store them. Buying 3-4 boxes at one time fills this box nicely.  By the end of the year, the kids have used them so much that we have lots of little pieces left over. I melt these down and use small molds to make pieces large enough for the kids to handle. You can get these little molds at Hobby Lobby or other craft stores. Or if you really want to be frugal, just place the broken crayon pieces in a silicone muffin tin and pop them in the oven til they are melted. You'll have nice little round crayon discs and the kids are fascinated by them.
Paint- After most projects I usually have left over paint. I don't always do this, but I have before and it turned out neat. I mixed some of it together making unique colors, or I mixed the remainder of a color into white (or any very light color). If you mix it with white, it makes a lighter shade of that color. You can also make really cool paints by not mixing it well with the white. This make swirls in it. Painting with this leaves little lines of the darker color. It looks amazing. The downfall of this is that it's hard to get the same effect a second time. Each time is different. It's still fun to see what you can do with this.
Empty Cans-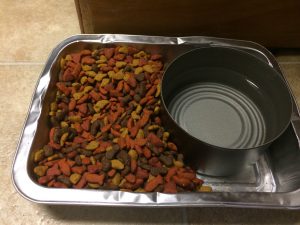 I have used empty food cans for different things. They are so easy to work with. If I know I'm going to re-use them, I always use a can opener that opens below the rim. This leaves the edge smooth so that it doesn't cut you. Empty tuna or chicken cans are great food bowls for the cats or small dogs. You can decorate them or not. They are easily washed and don't cost you anything.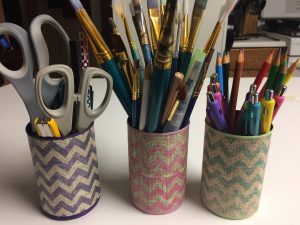 Other empty cans are great for holding pencils, markers, paint brushes. I used scrapbook paper to cover the cans and make them have a similar pattern. They look great in my craft room. Larger cans are great for utensils or other large items.
Odds & Ends- 
Like I mentioned before, I look at everything before I throw it away. I kept an odd shaped popsicle stick to use as a pattern with my crafting. An small hexagon shaped jewelry box is used as a stamp, as is other small shaped items like the round one shown here. It's a piece from an old hose on my cpap machine.  These work great for me since I can not draw perfect shapes.