Artistic? Maybe 
I've never thought of myself as an artist, but I do like most artsy things. Well, maybe not MOST, but a lot of them.  Painting and drawing have always been very relaxing for me and I'm not too bad at either. The frustration comes with not being able to put my vision on the paper without looking at something to go by. I need another inspiration other than my thoughts, something to give me the details.
Let's Talk Journaling
Bible journaling that is. This has recently become one of my favorite pastimes.  I have to be honest though. When my daughter Cassie first told me about her journaling, I was not ok with it. It seemed like a form of defacing the holy word, and that is not ok. Then Cassie showed me her work. She is a wonderful artist, so every page was beautiful, yet I still wasn't ok with covering God's word.
I began looking online at other journal entries and finally joined a couple of bible journaling groups on social media.  It was only then that I learned how journaling can be connected with studying God's word.  I began reading posts about how the passages came alive to these women, and a few men, and they were illustrating what they read.  A different perspective was unfolding and I was beginning to see bible journaling as a way to worship God through His holy words.

The Sweetest Gift
I received a journaling bible and also a good amount of supplies from my children for Christmas 2016.  I was so excited, and also a little scared. I didn't know where to start.  Since it was Christmas, I decided to begin with Jesus's birth. My first entry was not so great, but it was mine and I love it. We girls sat together that night and read that beautiful story. The little girls loved being involved and it was great time together for Christmas, at least for us girls.  The guys watched football, how boring!
A Change of Mind
Since that night, almost 8 months ago, I have journaled almost every day. Some days there are several entries because I love it so much.
I also realized that I am reading God's word more than ever, and my desire to do so has increased immensely. I was getting more from His words by illustrating them and it was staying with me longer. How great is that?!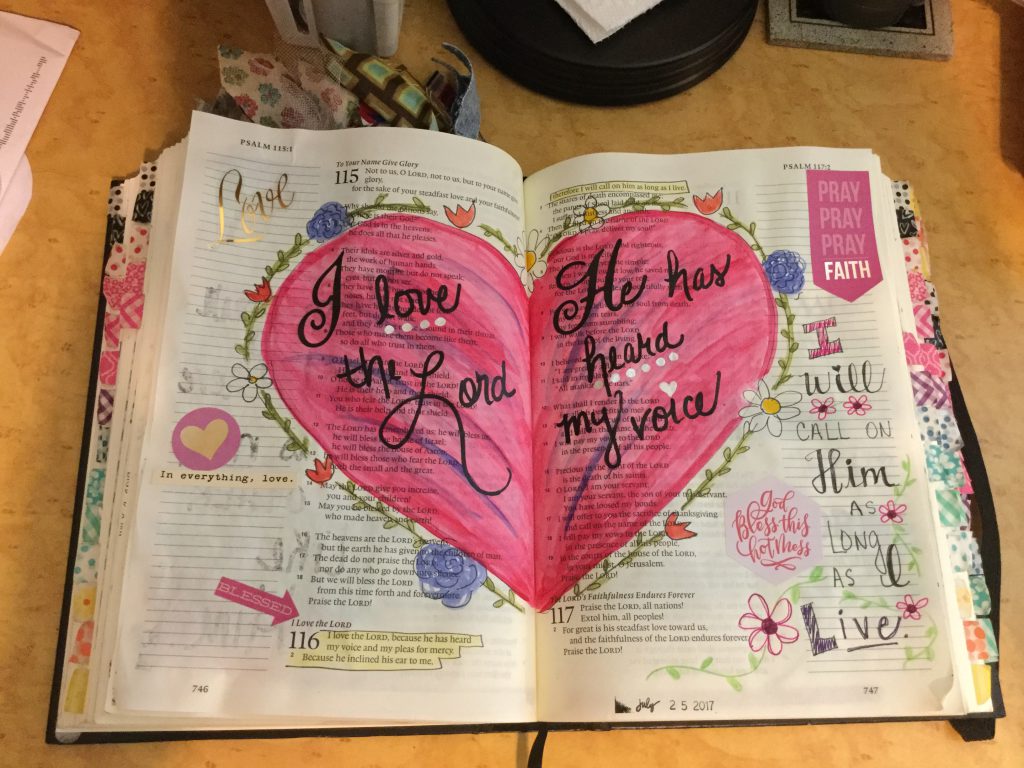 My Calm
Now I journal when I need peace and quiet, I journal when I'm bored, I journal when I want to feel closer to the Father.  Journaling is my calm, even if it's a crafty kind of calm.
Find your inner artist and let it out. I believe every person has some kind of art in them. It may be writing, singing, dance or any other form. Look for it. I believe you'll find it.
Share your artsy stuff with me. I want to hear from you guys!