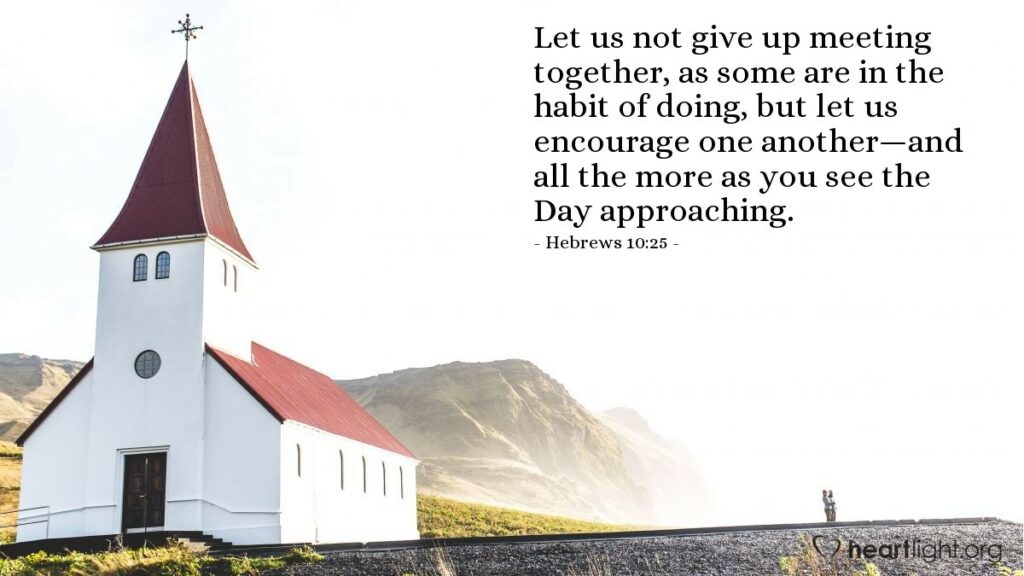 The past year has been very different for us. For a while our in-person church services were cancelled, and we watched worship service online. That went on for a few weeks and thank goodness we decided to resume gathering together.
It was a hard time for some of us. Don't misunderstand me, I loved sitting in my pajamas watching church online, but it just wasn't the same. I need that connection with my church family. When I'm not there in person, I don't pay attention like I should. I miss chatting with others and just being in the presence of believers makes a huge difference for me. I feel much closer to God when I'm there hearing His Word preached among my church family.
When we decided to resume normal services, our numbers were down. Some people we still haven't seen. But there are also new folks joining us now. To have a place to gather with fellow believers is a necessity. Hebrews 10:24-25 says this:
And let us consider how to stir up one another to love and good works, not neglecting to meet together, as is the habit of some, but encouraging one another, and all the more as you see the Day drawing near.
I take this verse seriously. I hope we never neglect to meet together again.
It's Saturday night and I'm prepared for church tomorrow. My clothes are ironed and hanging ready for me to get dressed. I have my lesson plans for Sunday School ready, and also the music is in order. I am privileged to serve the Lord in music by playing the piano for worship service. I hope to always honor God in everything I do. Most of all, my copy of God's Holy Word is packed and ready to go with my little notebook for taking sermon notes. I'm going looking for a blessing. I'm going to meet Him there and hear what He has for me. It will be nice to see my church family, of course, but hearing the Master's word for me tomorrow will take first priority.
I hope you join together with other Christians and take in the words from the Bible. If not, maybe you'll think about that and look for a Bible believing church to attend. If God is drawing you near to Himself, don't turn away and reject Him. It's the greatest gift ever.
Be blessed,
Nana