I don't know about any of you, but I'm ready for September. I've been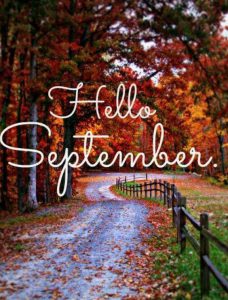 waiting on it for a while.  It brings some of my favorite things in life. Cooler temperatures are very welcome, especially with the heat and humidity we've had this year. The grandkids are back in school and I miss them, but that also means sports has started. We'll get to go and watch our little girls cheer on those Mustangs as those tiny jerseys run across the field. Before we know it, they'll all be cheering or playing for high school. Alli Beth is going a new route this year, playing soccer. It's new for all of us, so I'm excited to go and see her out there. The end of September brings my favorite season. Fall colors, smells, and crisp air… there's just nothing like it. And last but certainly not least, it will be fair time in Tennessee. Come see our award-winning Middle Tennessee District Fair! I love going and seeing all the homemade jellies, jams, quilts, paintings, woodwork, crafts, and much more. The food is delicious, if you don't mind gaining a few pounds, and if you're still young at heart the midway is open every day til late at night with lots of fun rides and games for all ages.  There's also the special features each night. Things like the Miss Fairest of the Fair, Demolition Derby, Tough Truck Challenge, Truck/Tractor Pull, Motocross/ATV Race, MTDF Concert  featuring Montgomery Gentry, and the Vehicle Give-Away.
Yes, this is the beginning of my favorite time of year. I am more aware of my surroundings during this season than any other. And I thank God each day for His many blessings on me. What's your favorite time of year and why? Please leave comments below.