Everyone loves baked beans! These have the heartiness of bacon and sweetness of molasses and brown sugar. You won't find a better recipe.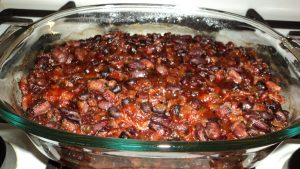 Chuckwagon Beans
2  15oz. cans of tri-blend* beans, drained (I get these at Kroger)
1 lb. thick sliced bacon, chopped
1 medium onion, chopped small
1 medium bell pepper, chopped small
1/2 cup packed light brown sugar
1/2 cup molasses
3/4 cup ketchup
1 tsp. Liquid smoke
*You may also use 1 can of black beans with 1 can of mixed pinto/great northern white beans OR 2  cans of pork n beans.
Preheat oven to 425º. Lightly grease a casserole dish and set it aside.
Put chopped bacon, onion, and bell pepper in a skillet and cook until tender. Do not let the bacon begin to crisp. Drain off the juices.
Drain the juice off both cans of beans. In a large bowl, combine the brown sugar, molasses, ketchup, and liquid smoke. Mix together well and then stir in the beans. Add the bacon and vegetable mixture and stir together well.
Pour into greased casserole dish and bake 40-45 minutes.