Do you ever watch those quick recipe videos on your social media sites? It used to irritate me because they seemed so frequent between posts that I actually wanted to see. Now I look for those. Most of the time they are quick and easy recipes with few ingredients, my kind of meals. Check out this easy Stuffed Chicken Breast meal. I've tweaked it a bit to fit our needs and you can feel free to do the same. It is devine!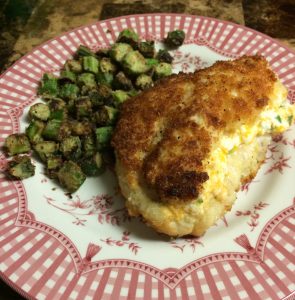 Stuffed Chicken Breast
2 large boneless, skinless chicken breast
1 small jalapeño, cored & seeded, small diced
2 oz. cream cheese
1/4 cup shredded cheddar cheese
1/2 cup flour
1 egg
1/2 cup bread crumbs, I used panko
Mix the diced jalapeño and the cheeses in a small bowl and set aside.  Cut a pocket in the chicken breasts and fill each with half the mixture, closing the pocket back together. Coat chicken in flour, then egg, then bread crumbs. Salt and pepper both sides. Heat about 1/4 cup olive oil in a nonstick skillet and cook chicken on each side until golden brown. Remove from skillet, place in a baking dish. Place in a preheated 350º oven for 20 minutes. Serve with any vegetable. We happened to have fresh okra from the garden, and it was delicious!