Who doesn't love a Shepherd's Pie, I mean it's the whole meal in one dish. I love that part! And this one is keto-friendly, so that means low carb and SO tasty!  I used carrots, celery and rotel tomatoes, but you can add the vegetables of your choice. I also used pepper jack cheese because that's what I had on hand. I'm sure you could use whatever cheese you like best.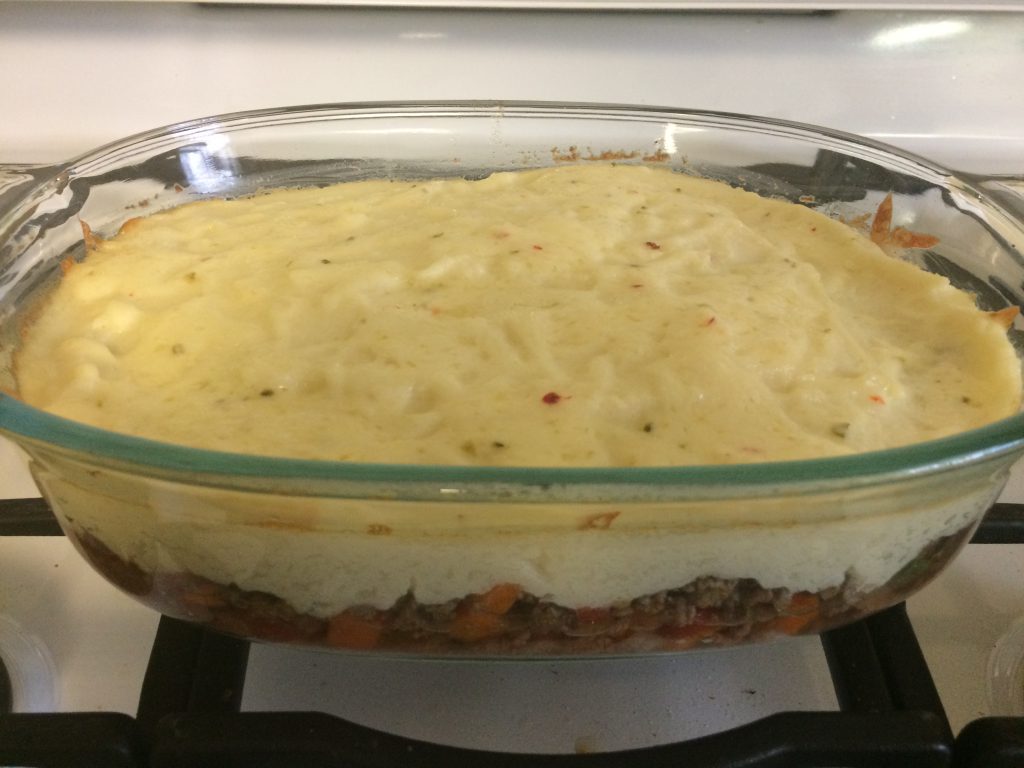 Keto Shepherd's Pie
Filling
1 lb ground beef
1 medium red onion, diced
1 garlic clove, minced
1/2 cup beef stock
2 carrots, diced
2 celery, diced
1 cup diced tomatoes, I used some leftover Rotel.
olive oil
Topping
1 medium head cauliflower
2oz ( 1/2 stick) real butter
2-3 tbsp heavy cream
salt to taste
1/2 cup pepper jack cheese, shredded
Cut up the cauliflower, steam or boil until tender. Place the cauliflower, butter, heavy cream and salt in a food processor or blender. Blend until smooth. If you don't have a processor or blender, a hand-mixer will work.
In a large non-stick skillet, saute the onion and garlic in olive oil, just until they start to turn brown. Add the ground beef and cook, stirring occasionally, until it is brown. Drain off the grease.
Add the diced vegetables, and the tomatoes. Cook on low heat, stirring occasionally for about 10 minutes.
Place the filling in a large casserole dish or you can use a large cast iron skillet. Spread the cauliflower mixture over the top evenly.
Sprinkle the shredded cheese over the top.
Cook in a preheated 350º oven for 20-30 minutes.  Serve warm. Makes about 12 servings.
Nutritional Info: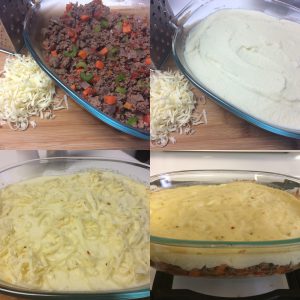 Serving size- 1 large serving spoon filled.
Calories- 284
Fat grams- 18.5
Net Carbs- 6.8