Nothing tastes better to me than a cold glass of homemade lemonade. I'm not talking about the lemonade made from the little packets of flavored, sweetened powder, I want the real stuff. This recipe comes from reading several different ones and then testing my own skills to make the perfect mixture for me. I love it on the tart side and not so sweet. So, after a few attempts, here's my "Best Homemade Lemonade" .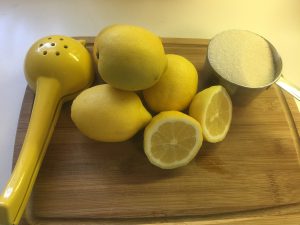 1 1/2 cup pure cane sugar, I use this
2 cups water
7 lemons, I use organic
In a small sauce pan, heat the water with the sugar. Stir until sugar is dissolved. Turn off the heat.
Cut five of the lemons in half and juice them. I don't have a juicer so I use a hand squeezer. It works perfect. Five lemons should give you about 1 cup of lemon juice.
Slice the other two lemons to add to the pitcher for garnish and extra flavor.
Put the lemon juice and sliced lemons in a gallon pitcher. Fill half full of cold water. Add the sugar mixture, stir well. Fill pitcher to the top with cold water and ice.
Serve cold.